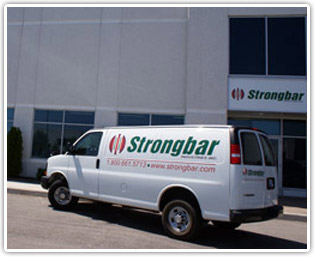 Strongbar Industries Inc. was established in 1973. With a client-focused, quality-driven mandate and team of dedicated detention industry specialists, Strongbar Industries has evolved into one of North America's most reputable sources of Architectural, Security, and Detention Equipment. Strongbar's team of highly-knowledgeable consultants are frequently sought-after by architects, engineers and government officials for new construction, renovation, and retro-fit of:
Prisons
Jails
Court houses
Police stations
Buildings that have special needs or require extraordinary security
Quality, integrity and experience are what make the Strongbar team leaders in their field.
In keeping with their vision of making communities safe and secure, Strongbar Industries has branched into the fields of retail, commercial and residential security. Strongbar is now a leading source of equipment, supplies and resources for professional locksmiths.
As Strongbar President Gordon West says,"We want to deliver the quality and integrity of Strongbar's products to every customer, from the large commercial contractor to the community locksmith. No request is too big or too small for Strongbar. Not sure what you need? Give us a call- no strings attached."
For more information about Strongbar Industries, please call 1-800-661-5713 or email info@strongbar.com.